A Maze and a Song
Good Morning, my friends! I'm actually up early today, but you can't tell because I dropped my husband off at work first before I came home to sit down at my computer. It's finally cooled off again so I am snuggling up in my giant sweater for the day with my crackling candle for company. We had an adventure this weekend with my sister-in-laws and friend. We did a corn maze and then we went back to the church for a psalm sing which I have been looking forward to for several months now. It's been at least two years since I got to go to an actual psalm sing. I'm pretty sure the first one I went to was before we were married and I haven't gotten to one since until Saturday, so I was pretty pumped.
It rained for three days at the end of last week. This was concerning to us as we had outdoor activities planned for Saturday, but it wasn't enough to deter us. We got up Saturday morning and proceeded with our plans in our usual, haphazard fashion. Logan ran out to get his hair cut and I jumped in the shower when I realized he was on his way back and I had less time than I had thought originally. I braided my hair in the car and we met up with the sisters for lunch half way there. As we drove the rain picked up, naturally, and we were a little worried about the prospect of doing a corn maze in the rain, but we figured we'd go anyway and see what happened. They'd only forecasted light showers for the day.
When we got there, the sun came peeking happily out and I thought, hey, maybe we'll be alright! We were given instructions for the maze; we could just go through and try to find our way out, or we could try to figure out what the picture/message was for the year and guess the two themes. We were told that there were 14 letter/numbers and three shapes, two large, one small, and given a clipboard with paper on it to draw out a map of what we saw. My husband was assigned the job of cartographer for our adventure and off we went.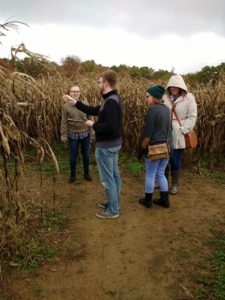 Things went pretty well at first, it was muddy, but sunny and we quickly figured out the first grouping of characters. I won't tell you what it was in case you want to go out to Gearhard farms and figure it out for yourself. It's a good time, you really should. Anyway, we were forming a pretty good map until it started raining again. We'd gone through at least half of the maze by that point and did our best to keep recording as we went, but the rain kept dripping and the paper got wetter and wetter. Luckily we'd come back to the entrance to explore another branch of the maze and our friend Beth was able to run out to get an umbrella from the car to protect our map from farther harm. Of course the rain let up at that point, but the damage had been done, our first map was quite soaked. Fortunately for us there were a bunch of papers on the clip board and only the first four were soaked through. We were able to find a clean dry page and copy the map over before continuing our quest.
I am quite pleased to say that we managed to make it through the corn and figure out all the characters, shapes and themes. The guys running the maze were very helpful and quite pleasant, giving us every hint possible to figure out the second theme. The big one was pretty obvious, but the second one was trickier. We managed to figure it out at the last minute, though, and got the prize of a buy one/get one free coupon for next year's maze. I was unreasonably excited about conquering the maze and getting all the themes. Logan's map was actually pretty good and I kind of wish I had taken a picture of it before we turned it in. I wouldn't have been able to post it, though, so as not to give the message away.
We had a lovely time in the corn and returned to the house a little muddy and a little tuckered out, but very satisfied with the experience. Next up was the Psalm sing, which started a few hours after our return. We hung out in the house until it was time to go over and then dragged ourselves away from the comfy couches over to the church. We have this unfortunate tradition in our church where the heating in the sanctuary doesn't work every year. Luckily the fellowship hall has a different heating system, so it was nice and warm, if not as acoustically pleasing. We enjoyed a very rice based fellowship dinner and then brought the Psalters into the hall to sing there instead of shivering in the pews.
Despite the less than ideal location, the Psalm sing was wonderful. The Psalms are my favorite part of worship in general and having an evening to just sing all of our favorites was amazing. The young adult Bible study has been practicing Psalm 119 X for about a month now to sing it for the Psalm sing and it turned out really beautifully. It was a little shaky at first, but we pulled it off. It was really great to sing the psalms with our church family and enjoy hearing everyone singing together with one voice. It really is an experience everyone should have. I'd love to go to a really big Psalm sing someday, but I'm more than pleased with our little congregation all singing together.
So that was my weekend. It was a little soggy, but quite nice. I'm so glad that we got to do another corn maze and have some fall fun with the sisters. It was awesome hanging out and then singing with everyone at church. Despite being quite busy, I think it was one of the more relaxing weekends we've had in a while. Hopefully that bodes well for the week to come. Have a lovely day, my friends!