Christmas Time: Party Time
Good morning, dear friends, I've just finished a weekend of parties which kicks off all the parties for the rest of the year. The thing about having friends and being involved in things and having a job, I guess, is that you get people want to celebrate Christmas in those groups and so they throw parties. And being in those groups means you get invited and have to go to all those parties. And sometimes you're the one instigating the parties. So that's what we did last week and will do at the end of this week, because Christmas, and again next week, actually, because why not?
Our first Christmas party was actually technically two weeks ago. We attended the Pizzi Christmas party with my in-laws. Every year my mom-in-law's extended family has a big Christmas party at a restaurant. We go and chat with all the relatives and eat Italian food and it's a good time. It's not a wild party by any means, but it's nice to see everyone and catch up a little bit. We had an adventure getting there, this year, though. They, of course, closed 376 between us and Oakland that weekend and we weren't sure what to do, so we just tried for the detour, but that landed us in a half hour of traffic getting to the final exit, which put us in the, "running late" category, which my husband cannot handle. We ended up following Google, instead of the detour and wound our way through Pittsburgh, which is always interesting. We managed to make it only 20-ish minutes late, which was far too late for my husband, but I doubt anyone else thought anything of it.
Our second Christmas party of the year was this past Thursday. It was suggested early on that the my husband's work group do a Christmas gathering with a white elephant gift exchange. I was very much in favor of this as I love white elephants. The problem always is, though, finding a time when everyone is free. Last Thursday was the only day we could get everyone and it was also the day before all the guys had to get up ridiculously early to drive up to Robinson to see Rogue One. It was a networking event of some kind. Anyway, our party didn't last very long, but we did eat some delicious foods and exchange gifts. We did one gift per couple, which made the whole thing very short, but it was fun, nonetheless. I got Marvel dice games, which I've always wanted to try. I don't know how they work, but I'm sure Logan and I will figure it out. I also got to snuggle a super fluffy cat, so there's that.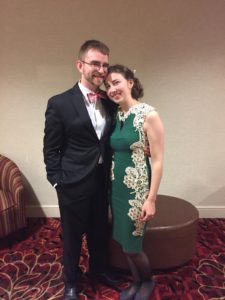 Saturday was the big party, the one I've been preparing myself for since June, at least. I spent pretty much all year thinking about what dress to wear and what to do with my hair, and what shoes I was going to wear. Winter formal events are tricky because I never want an open toe, but most of my closed toe shoes are boots. Maybe next year I'll go in my converse. They were fancy enough for my wedding, and so good for dancing. Anyway, it was the company Christmas party for my husband's work. It's this big formal event at a fancy hotel which always makes us nervous because we're not super fancy people. Logan pulls out his black suit, I scramble all year to find a dress fancy enough for the occasion without going over board, and in the end it all turns out fine anyway. This year I wore a fitted green dress, which is weird for me, because I love the flair. But I found the dress at a thrift store for like $6 so I figured it was worth a shot. I bought another dress, a purple one, naturally, that is more my usual cut, but I couldn't resist the festiveness of the green dress.
We've gotten pretty good at the getting to the Wyndham in Pittsburgh. They had the party there last year as well and we had quite the adventure finding the parking garage right beside it. This year, though, I was prepared for the weirdly sneaky sign pointing to the underground entrance. It feels a little like a secret lair. Anyway, I also wore flats this year, because heels are not my friends, so the walk over, while slushy, was not as painful as last year.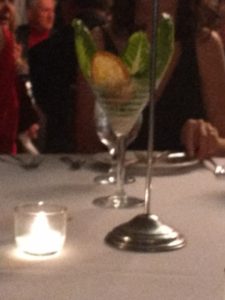 My husband likes to think of this event as a survivor style challenge where the goal is to go as long as possible at a formal event before embarrassing himself. I think we did pretty well, getting through the awkward cocktail hour in a small separated room, filling our tiny plates with food and eating things in sauce without getting messy. The worst I suffered was a drop of lettuce on my lap, but my napkin caught it so it was fine. Speaking of lettuce, they had the weirdest salads. They were all served in martini glasses. Yup, all of them. Including the Caesar salad which was just three shoots of romaine lettuce sticking straight up and some stuff tucked in the middle. It was the strangest salad I've ever eaten. Good, but weird. I ended up eating it with my fingers, because I had no idea what else to do, and Logan's boss and his wife had done the same thing, so I figured it would be okay.
The big embarrassing thing that we manged to do came when the dancing started. Dancing is my favorite part of any event and so I always drag Logan out for some swing whenever it appears socially acceptable; meaning there are other people out there. So we go out after another couple goes up to dance and we have lots of room for sing. And then everyone else comes out to the dance floor and pens us in and we have no room at all. That was a little awkward, but we found an open space on the edge and enjoyed dancing with more room until it came time to mop the floor. This is one of our favorite moves because it looks impressive while being super easy. Basically I spin around on the floor and Logan pulls me back up and it's done, it looks cool, and people are impressed. The thing is, though, you need a good amount of room to do it, because, you know, flailing on the floor. We found our opening, thought we had enough room, went for it, and the vice president's wife stepped back just as I was whipping around and I caught her in the legs. I didn't take her out, but apparently it was close. We felt so bad, we tried to apologize after the dance, but she was already caught up talking to people and then off dancing with the HR lady, I believe, and so we had to settle for apologizing to Ken for almost taking out his wife. Logan assures me he's going to apologize in person next time he sees her.
So we've survived three Christmas parties fairly unscathed thus far. We have left my mom's family Christmas Eve party, where there will be another white elephant and probably some other games and I forgot to get that sweater off of Molly. >.> Hmm. There may or may not be ugly sweaters involved. We'll see. Anyway, next Wednesday is the Bible study Christmas party, which I may have been the one to suggest. We are doing yet another white elephant gift exchange, which was not my idea this time, but I'll take it. We are also watching Veggie Tales, because we're going through Daniel right now and really, who could pass up such an opportunity? I'm pretty excited about the white elephants. I found some great stuff on Amazon and I'm pretty excited to see how people react. I just have to remember which gifts go to which white elephant. Different crowds, you know? Though some of them will go over equally well at both, I think. Anyway, I hope you are enjoying all of your own holiday parties, my friends.