Christmas Time: Cookies!
Let's be honest, friends, the best part of Christmas is the cookies. What other time of year is it acceptable to have upwards of twenty dozen cookies in your house? And they come in every imaginable variety. You could eat cookies for days and not have the same cookie twice. It's a cookie persons greatest dream! But seriously, the cookies are great, but what is actually the best is the making cookies part. My dad has a list, you see, and every year he makes an excessive amount of each to fill the trays at all sorts of parties through out the late December weeks. So every year I've made a butt load of cookies, until I moved out and had to choose which ones to come back for. The choice wasn't hard.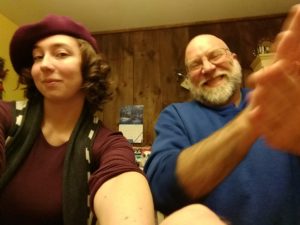 My dad makes the best short bread cookies. I really need to get his recipe because they are everything short bread cookies should be. Not too crumbly, not too soft, just perfect. It's actually a little disappointing eating short bread that's not his, with few exceptions. (There's a lovely woman at church who makes shortbread with caramel and chocolate and it's phenomenal.) For Christmas we make this short bread into candy cane shapes by dying half the dough red and rolling the two colors together into a twist and shaping them into a crook. It's the most challenging cooking and therefore my favorite.
I started learning the art of the candy cane probably in my early teens. It took a couple of years to get the hang of it. The dough is chilled and crumbly so you have to warm it up in your hands in order to work with it. If you don't warm it up enough, the cookie will fall apart as you try to roll it. I destroyed many a cookie in those early days. My dad very patiently showed me again and again what color I needed to achieve to work smoothly; the dough lightens as it warms. Now I'm almost as good as he is.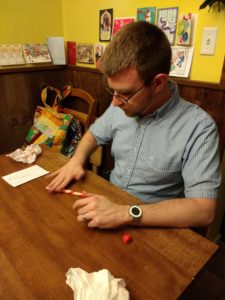 We brought Logan in on it two years ago to teach him the art as well. He's taken to it rather nicely. This year we had the whole family home for the candy cane making, with my sister's boyfriend, Alan, as well. My brother never gives it a try, but everyone else did pretty well. Alan even got a few acceptable ones in there.
I also made pizzelles with my mom-in-law last week. And by "made with" I mean she made them and I watched. It's not really a two person job. I feel like my family has made pizzelles before, but if so it was a long time ago. They are my husband's favorite Christmas cookie, though, so I'm thinking maybe next year I should look into a pizzelle iron of my own. It was nice to share in another Scavo tradition this year. I was supposed to go make chocolate with them today, but a friend of mine is in town and this is the only day I can see her, so there I will go.
Tomorrow is sugar cookie day. We'll go up to my parents' place and my little cousins will come over, though they're really not so little anymore. Le sigh. Anyway, we'll decorate sugar cookies and watch Christmas movies and play in the living room and give them their gifts and it'll be a grand old time. I am generally indifferent to sugar cookies on their own. They're not my favorite cookie in the line up and I'm not super talented at the painting with icing, or painting in general, so the decorating part  is only meh. But getting to see my girls and Zachy is totally worth dealing with unruly cookies and messy icing. Zachy may even get through a cookie before trying to eat and/or lick it. He's four now, you never know.
I keep saying I want to make my own Christmas cookies but it has yet to happen. I feel like I'm in a weird place where all of the traditional cookies are covered and we go to the same things so we can't really make our own and bring them. I could make them for our friends, I guess, and send them to work with Logan, but it's a lot of work in the midst of a lot of holiday chaos and we don't really have a place to store them. Maybe next year I'll figure something out. I have been promised a chocolate cookie recipe from my mom-in-law and I do love chocolate cookies. I also want to do the ones with Andy's candies in them. I got the candy bits and everything I just have to actually make them. Maybe I'll make Logan do that with me on Friday. He likes to mix things and I like to roll them out so we make a pretty good team. I hope you are enjoying lots of cookie making as well, my friends.