Days of Thankfulness: Husband
I did this last year the week before Thanksgiving, but I keep seeing a couple people doing the 30 days of thankfulness on Facebook and thinking, "hey, I should do that." So instead of on Facebook, I'm doing a smaller version here. For my first day of thankfulness I present to you, my husband.
You all will remember my husband Logan, I'm sure. I grow more thankful for him every day. We first met at a dance on Halloween and then on a friends couch just before the fall semester ended and then, for real, at a dance in the spring. Contra dances, by the way, the cool kind of dance. We spent the rest of the semester awkwardly interacting in a sort of "I want to be your friend, but we're both super socially awkward" kind of way and my now best friend had to point out that I was flirting with him. I didn't know I was flirting with him, mind you, but I totally was.
We started dating over the summer and both made it very clear where we wanted the relationship to go. It might sound a little weird to say that I knew pretty much from the beginning that this was the man I was going to marry, but it's true. I knew when we had that conversation that we were going to get married someday. I knew when he told me about his great-great-grandmother's ring that it would be mine someday. It was all too perfect not to be. I have always wanted an heirloom ring.
So I am thankful for my husband and the fact that he is so much better at being an adult than I am. I'm thankful for having him to take care of all the financial stuff so that I don't have to worry about it. I'm thankful that he consults me and involves me in financial decisions, even though he's the only one making money in our family right now. He always gets my opinion and asks me if it's okay before spending money on something non-essential. He's super considerate and kind and sweet and almost always thinks of me first.
I'm thankful for his kind heart, that he has this intense desire to be a good friend. I'm thankful that he is super conscious of his attitude towards people and is striving to conduct himself in a godly manner. I love that he wants to be better and acknowledges when he fails. It takes so much courage and self-awareness to know when you've fallen short and to admit it to someone, and I'm glad that someone is me. I'm thankful for his generosity, for his desire to help those around him. I'm thankful that he is willing to do whatever he can for the people he cares about, and for the people I care about, even if he's never met them.
I'm thankful for his sense of humor. He can always make me smile and laugh, even when I don't particularly feel like smiling. He's so cute and goofy and sweet and he knows just how to make my heart swell. I'm thankful for the way he holds me, for how safe I feel when his arms are around me. I know everything will be alright as long as he's there. He makes me feel like nothing can touch me. I'm thankful for his love of cats, and the fact that he wants kids someday. I'm thankful that my future kids will have a really awesome dad.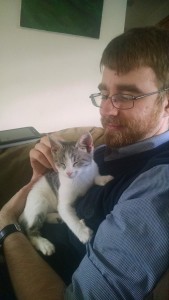 I'm thankful that he likes to cook. I'm not super into cooking and if it were left up to me, I think we would just eat out all the time, or probably starve. No, I could cook if I had to, and have, but he has such a passion for it and I love it. He gets so excited going through cooking blogs and finding new recipes to try. He loves making new things and fiddling with old recipes to make them better, trying a new spice or a new technique. His face lights up and he bounces around like a small child and I love it. I love him.
I know, I know, another post gushing over how wonderful my husband is. I can't help it! He's this wonderful, amazing, sweet, fantastic guy and he's all mine. You would gloat too! But I got it out of the way first so that we can move on to other subjects of thankfulness. In the mean time: I'm thankful for my husband; what are you thankful for?