Days of Thankfulness: Logan
Good morning, friends! I'd like to start out, real quick, by apologizing for missing last Wednesday, when the point of switching the schedule was to post twice last week. I had every intention of posting, and then we had yet another cat adventure and spent the morning at the vet instead. Nothing too exciting this time, just an eye flair-up and some eye drops for the past week, but enough to throw me off for the whole day. So that's why I'm doing one last day of thankfulness today before we move on to Christmasy things. I really wanted to get this one in there this year.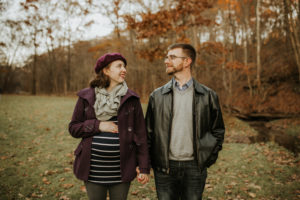 I realize that this will be a lot of what you've read in the past. My first year of thankfulness I, naturally, posted about how thankful I was for my husband and all he does and who he is. That gratitude has only grown over the three years we've been married, the two years since that post, and exponentially over the past five months we've been pregnant. I keep reading about how pregnancy and early parenthood can be so straining on a relationship, but my husband has been nothing but supportive and comforting and wonderful this whole time. He's so excited to be a dad and I am so excited to watch him as we raise our boys together. I am so thankful for Logan.
They say you marry someone like your father. While my dad and my husband are very different people I can see shades of my dad in Logan. He's a great provider and saver and is really diligent about our finances. He manages our budget carefully to make sure we have enough to cover everything we need and still have some left over to have some fun as well. I was reminded how well he takes care of us last night as we started getting ultrasound bills. Having twins is much more expensive than we thought initially and I was feeling so overwhelmed with the bills we were already getting and the thought that there would be so many more. Logan, on the other hand, was not worried, and held me close as he explained his whole plan for us and how everything was going to be okay. I am so thankful for his knowledge and ability to manage our finances so that we don't have to worry about things like this. I would be such a mess on my own.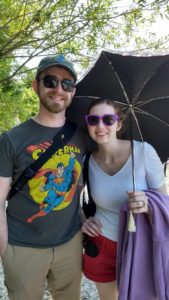 I am so thankful to be married to the kindest, sweetest man I know. He has been so supportive as I've been emotionally unstable these past few months. He's been there to hold me while I cry for no discernible reason, to comfort me and tell me it'll be alright as I freak out about being a good mom. He's so sure that I will be, and it means to world to me every time I hear him say it. He's so excited to meet our boys and so in love with them already. I love how much he's looking forward to teaching our boys, to taking them to church and teaching them about God, to show them all the things he loves and enjoys and to encourage them in their own interests, whatever they may be. He's so excited to see what they'll be like and who they'll be and he wants so much to be involved in everything. I am so thankful to have a husband who is so devoted to being a good father for our boys.
Logan has stepped up in so many ways since we got pregnant. He's been taking care of all the cat things on top of his usual cooking and cleaning the kitchen. He's been doing his best to take over where I can't anymore, to lift the things I can't lift and move the things I can't move. He's not perfect, of course, but he's trying so hard to fill in where I've fallen behind and I appreciate that so much. It's been so frustrating for me, not being able to contribute like I used to. I can't even handle switching my wardrobe on my own anymore. I had to have him bring up my boxes for me, and I'll have to have him carry my stuff down again when I'm done. I can't take care of the cat boxes or clean up after them as I can't bend down easily anymore to do it. I couldn't even take care of the trash this morning as it was too heavy for me to lift and roll down the sidewalk. It's hard not being able to help, but Logan has been so gracious with me and understanding of my limitations, even before I was willing to accept them. He's been making sure that I take care of myself and our boys and is so willing to take up the jobs that I've had to let go.
Mostly, I am thankful for who Logan is and that I am blessed enough to be the one he married. I'm thankful for the way he can always make me laugh, no matter what's going on around us. He can always bring out a smile in me. I'm thankful for his passion for cooking and how excited he gets over new recipes and trying new things. He got a new gadget recently that he's been so excited about and it's adorable. I'm thankful for his passion for the Lord and his desire to lead our family in a godly manner. I'm thankful for how he looks after our family and is willing to do whatever it takes to put us first, after God. He's so devoted to protecting us and making sure that we stay strong as a couple so that we can be good parents for our boys. He isn't a perfect human, but he strives so hard to be a good husband and provider for me and a good father for our sons, and a good spiritual leader for our family. I am so very thankful for everything he does for us and all that he is.
I have been blessed beyond measure to be married to Logan. He puts up with so much from me and for some reason still loves me. I could not have imagined a better husband if I tried. I'm still amazed that God gave him to me. Today I am so incredibly thankful for my husband, Logan. What are you thankful for?