Days of Thankfulness: Psalm 127
"Unless the Lord builds the house,
    those who build it labor in vain.
Unless the Lord watches over the city,
    the watchman stays awake in vain.
2 It is in vain that you rise up early
    and go late to rest,
eating the bread of anxious toil;
    for he gives to his beloved sleep.
3 Behold, children are a heritage from the Lord,
    the fruit of the womb a reward.
4 Like arrows in the hand of a warrior
    are the children[a] of one's youth.
5 Blessed is the man
    who fills his quiver with them!
He shall not be put to shame
    when he speaks with his enemies in the gate."
– Psalm 127 ESV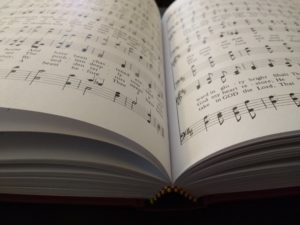 Good morning, friends. I generally try not to be one of those people who randomly posts Bible verses places. Mostly because I'm just not that kind of person, but also because I lack the attention span to get through large chunks of scripture, let alone understand them enough to share them with others. This is why Church and Bible Studies are important to me. I can follow along great, but reading on my own is a struggle. That being said, this passage has been very important to Logan and I over the past weeks especially, but during our journey to parenthood in general. Today, I am thankful for Psalm 127.
Psalm 127A, from the red book, specifically. It's a short song with a simple tune and three verses. It basically completely sums up our trying and pregnancy experience thus far, and probably well into the future. Logan and I are both worriers. We have tendencies towards anxiety and struggle with sometimes irrational concerns. When Logan is stressed out about one thing, it often manifests as worries about any number of unrelated things; his sisters, the house, our finances, you name it. So, naturally, when we decided to start trying for a baby, things got more complicated in that realm.
I can't speak to his personal struggles as we embarked on our quest for parenthood, but I can say that my own were conflicting. We've always wanted kids, but it's such a big change. Nothing would be the same, what if we conceived right away? Were we ready for that? On the other hand, it could take forever. What if we had to wait years for a baby? Could I handle that? What if it never happened? What if I couldn't have babies of my own? Many of our friends feel called, very strongly, to adoption, but we don't. If that is what the Lord led us to, we were, and are, more than willing to follow his lead, but that's not where we feel called as our first option. I have always dreamed of being a mother, though, and carrying my own children, and the idea that I might not get to see what our babies would look like was a little terrifying to me.
"Except the Lord should build the house, the builders lose their pain." We had to remember that we were not in control. We could try and try all we wanted but if it wasn't in God's plan for us to conceive, now or at all, it wasn't going to happen. And for some I could see that being a scary thought; that they have no control. But for us, knowing that the Lord's will is perfect and for our good, it is a comfort. If God blessed us with a child, it is His will alone that brought that child to us, and He would care for us and guide us as the parents of said child. It didn't matter if we thought we were ready or not, it was up to God and He is never wrong. Psalm 127 reminded us, Logan specifically, that nothing happens that God has not perfectly planned.
We did conceive and we spent 20 weeks preparing and planning and expecting one beautiful gift from God, only to find out there were far more gifts waiting for us than we were expecting. Most people find out their having twins around 7 weeks. While we definitely could have found out later, 20 weeks is a long time to prepare for one thing, only to find out you need twice as much as you thought you did. It was terrifying and thrilling and overwhelming all at once, but you've heard all that before. In the midst of all the processing, Psalm 127 A played through my head on a loop. "Lo children are the Lord's good gift, rich payment are men's sons." Rich payment are men's sons. I realize that it's not really meant to be gender specific, that it applies to all children the Lord gives, but the wording in the Psalm struck me especially as we're having two little boys. Two sons that are the Lord's good gift. The coincidence made me smile, for one, but also remember that even though it felt so overwhelming to have two instead of one, they were both the Lord's good gift to us. They were both this amazing blessing and I loved them each as much as I had ever loved our theoretical single baby.
I've been singing Psalm 127 A to our boys for the past three week now. Every time it comes up in my playlist it makes me smile. God has given us not only these two precious little boys, but also the perfect reminder of His care for us and assurance that we're going to be alright. "Tis vain for you to rise be times, or late from rest to keep. To eat the bread of toil for so, He gives His loved ones sleep." It does us no good to worry, and there is no need for it anyway. We are part of the body of Christ, brought into His fold and cherished by Him. His plans are perfect and sure and nothing happens that He has not set out for us. We rest in hope and trust in His perfect will, as we look to the future raising two little boys.
The next few months are super scary looking, I'm not going to lie. So many things can go wrong with twins, but then again, so often things go perfectly well. We cannot see what is coming, but we can trust that whatever happens, God is in control and His will is perfect. It may be a trial that comes, but it will make us stronger and bring us closer to Him. Whatever is before us, we will trust in God and His perfect will. Today I am so thankful for Psalm 127 and the comfort that it has offered us on our parental journey. Have a lovely day, my friends.
‹ Days of Thankfulness: Support Days of Thankfulness: Finally Doctors ›