Beaches and Colds
Good morning friends! Summer is almost over; I know because we have successfully completed the Scavo family vacation, and I've gotten to eat corn on the cob once. It seems I only ever get corn on the cob once a summer, which is sad because it's my most favorite summer food. But I'll take what I can get and now I'm ready to move on to fall. First, though, I'm sure you are all dying to hear all about our beach vacation last week. If not, well, you've come to the wrong place.
To begin with, you must know that my husband's boss returned from his own vacation the week before we left on ours. As is the way of cruises and planes, Logan's boss came back with a cold, and as is the way of colds and offices, Logan managed to catch said cold, just before vacation. Poor Logan was feeling miserable over the weekend, but had perked up by Monday when it was time to leave, thankfully. Monday night, however, guess who's turn it was for the cold? That's right, mine. So our big family vacation was a little dampened by my inability to breath and coughing up mucus at times and generally feeling unwell.
Monday and Tuesday my parents happened to be around visiting my sister. Logan and I met up with them for dinner Monday night as I slowly descended into the fuzzy pits of colddom. It was lovely being able to see my sister for a little bit and to visit her new apartment and her cat, whom we miss terribly. He is a very good cat, and he remembered us, even after four months of not seeing us. Anyway, unfortunately that was the only day I got to see her. My parents came over Tuesday before they made the return journey home to see the little house we were staying in and visit. I was feeling almost my worst at that point and stayed on the couch for the morning while they all headed to the beach. Thankfully a two hour nap and some lunch saw me feeling well enough to join them for the afternoon.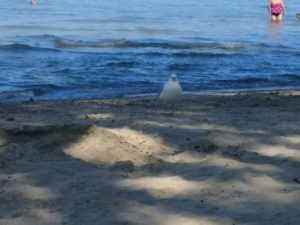 The beach we went to is much smaller than the ones I'm used to on Lake Erie. The beaches on Presque Isle are much deeper and offer lots of room for kite flying sand activities. This beach was half in the shade of trees, which was nice, but didn't leave any room for kite flying. I was disappointed since the Scavos didn't fly kites as children and I was looking forward to sharing the joys of kites with them. Swimming was weird too, since it was really shallow for the most part. You could basically walk right out to the breakers without it getting too deep to touch. The depth went up and down, too. Sometimes it'd be getting deeper and then all of a sudden it'd go up again and the water would only be to your knees. Strangeness aside, we did have a lovely time hanging out and swimming. My dad and I built a sandcastle and Lauren befriended a rather grumpy seagull that they named Charles. She fed him a Pringle, apparently, and he spent the rest of the time guarding that spot and chasing off any other seagulls who might think about loitering on his turf.
Wednesday I feel bad about. It was my sister's only day off, and I knew that. I should have made actual solid plans to do something with her so that when my father-in-law said about doing the island that day I could say "Logan and I are hanging out with Erin that day." and we could have done it another day. It was beautiful every day but Friday and even Friday turned out nice after a little rain, so we could have done it another day. Of course I wasn't thinking when he said about doing the island Wednesday, probably because it was just "Tomorrow we'll do Put-in-Bay" and my cold-filled head wasn't exactly up to making connections like "Today is Tuesday so tomorrow is Wednesday." I still feel bad about it, though, as that was the one day I was feeling actually well enough to go out and do all the things, and the only day my sister had any free time at all.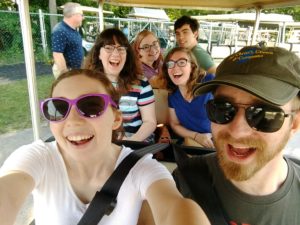 Despite the fact that I should have been a better sister, we had a nice time on Put-in-Bay. We rented the longest golf cart they had to fit eight people, which was an adventure. Ours was named Andre the Giant. We saw the monument to the War of 1812 and learned about the navel battle that took place on Lake Erie, which was really cool. We ate at a cute little cafe for lunch and then road around in the golf cart to see all the island's points of interest, including a lighthouse, a house that's half a boat stuck to the side of a hill, and a place along the shore where the sand is broken shells. We skipped rocks and went to a little antique shop and put on lots of sunscreen. For dinner we went to a really nice seafood restaurant and all ate lobster bisque because it's the best. I got some lovely coconut shrimp, but unfortunately by then my cold was starting to rear its ugly head again and my nose was completely blocked, making eating difficult. I enjoyed what I did get to eat, though, and I only got a little lobster bisque on my shorts.
Thursday I spent on the couch. I feel really about about this since my poor husband opted to stay with me and was board out of his mind. However, after all the exertion of Wednesday I just needed a full day to rest and recover from my cold. So Thursday I spent inside watching Netflix on the couch while my husband tried desperately to entertain himself. He doesn't idle well, so a whole day inside was really hard on him. The rest of the family went out to the shops around Port Clinton and Marblehead while we stayed in.
Friday was our last day in Marblehead and it rained most of the morning. We ate waffles and then headed to the beach anyway as the rain has cleared and it was our last day to beach. We spent a few hours on the beach. I read in a chair in the shade while the others swam. It was a little too chilly for me to get in the water, so I didn't bother changing. It was nice to just chill outside for a while, and enjoy the breeze and the sound of the water. We had an early dinner, since we had a late breakfast, at a local diner/seafood place in Port Clinton. It was really good, but I was disappointed they were out of clam strips, as those are my favorite. They had really good fries, though, so that made up for it a little bit.
Once we were full of sea foods, we went to see the Marblehead Lighthouse, which the rest of the family had visited while I was hiding on the couch. It was really pretty by the lighthouse. The shore was rocky and you could see across to Cedar Point or out into the open water towards Canada. It was too late to go into the lighthouse, but it was nice to see it, at least. We ended the night with ice cream, because what vacation is complete without grabbing ice cream at least once? Logan got a giant milkshake and felt pretty sick afterward, but apparently it was worth it.
By Saturday I was so ready to be home. The little house we were staying in was very cute, but the couch was not as comfy as our couch and Logan and I ended up sleeping 50's sitcom style in two twin beds, due to a misunderstanding in how the beds were set up. The pillows were also too slippery for me to be propped up against so sleeping with a cold all week had not been fun. All in all, I was done with vacation and ready to lay on my own couch with my own owl pillow and snuggle our cats and sleep in our own bed. We had a quick breakfast, cleaned up the house and then headed out for two last stops on our vacation. We visited an island that held a prison for Confederate officers during the Civil War. There's still a little graveyard there, which we went to see. It was a nice piece of history, but a bit somber for the end of our trip. For our very last stop, we drove over to the Cheese Haven in Port Clinton. Scavos are extremely fond of cheese. Logan loaded up on cheese and dried meats and I got some chocolate covered peanuts and some turtle bites. Once we were loaded up on cheeses, we were finally on our way home.
All things considered, it was a very nice family vacation. I do wish I hadn't been sick through the whole thing, but even despite the cold we managed to have an enjoyable time on the beach and having adventures. We are so close to being done with taking trips for the year. This coming weekend we'll be driving down to South Carolina to see some college friends and watch the eclipse. After that we'll go camping with my family for labor day and that'll be it. We'll be done with trips for the year, hopefully. Summer has been fun, but I am so ready for cool weather and warm sweaters now. Have a lovely day, my friends.