My History of Easter Traditions
When I was a kid, Easter was the second biggest holiday on our calendar. While Christmas obviously took the cake, Easter was also a big deal. There were big celebrations and events at Church, Palm Sunday was commemorated with big musical productions, we even had a donkey one year. Some of the stuff, I'll admit, was kind of neat, but definitely needless intrigue. It was another split family holiday, too, spent half with my mom's side and half with my dads, at rotating houses. Things have changed a lot since then, but there are some traditions I'm still very fond of.
I'm a Reformed Presbyterian, which means we don't celebrate holidays in the church because every Sabbath is a church holiday. Growing up, however, it was a big church holiday and a big family holiday. One of my favorite activities was coloring eggs. My family would always host all the cousins on my mom's side for egg coloring and an Easter egg hunt. My dad would hide eggs all over the yard while we were coloring eggs and we would run out and find as many as we could when we were done. It was a lot of fun, but I remember one year we were each supposed to find a certain number of eggs and I was the only one who didn't get as many eggs as everyone else. It was very upsetting, but then again, I was a very sensitive child so it really didn't take much to upset me. I remember writing in my journal that obviously a raccoon had run off with my final egg. I'm not super into the whole competitive activity thing, anyway.  I always hated pinatas because you had to be aggressive to get any candy and I was not an aggressive child, with two aggressive siblings.
I can't say I miss the pomp and circumstance my old church put on during Easter, but I will say that it was fun to be in it. I always wanted to be involved in the church stage activities, because I loved being on stage, but I rarely was chosen to actually be involved. That one rare occasion I was included in the Palm Sunday production which involved live animals. This was shortly after they'd opened up the new part of the building, including a brand new sanctuary, so that was a bit of an odd choice, but it looked really cool. I got to be part of the triumphant entry scene, in which the guy playing Jesus rode on a real donkey down the aisle onto the stage. I was probably fifteen or sixteen at the time and I got to help lead the donkey and keep him from eating the actual palm branches people were waving. It was a lot of fun and made me feel super important, but also really unnecessary to the story telling, so you know.  One year, when I was in college, I went to the Good Friday service with my mom. They had a part of the stage sectioned off and a representation of the curtain in the temple set up, which they pulled aside when they got to that part of the story. After the sermon, we went through the vale into the make-shift room lit with candles and took communion there. Again, it was really neat at the time, but looking back, not exactly the environment you want to take communion in.
Every year on Easter morning, my siblings and I would get up and run down stairs to look for our Easter Baskets. They'd be hidden somewhere around the house and we would have to search for them to get all the goodies inside. They'd be filled with candy and chocolate shaped like a cross and little gifts, like toys and movies. One year I got Joseph and the Amazing Technicolor Dream Coat, which was my very first musical. I got one of those big beanie babies when I was older than you would think and I loved it so much I slept with it every night until I got married, basically. I could not tell you why I was so in love with this stuffed dog, but I super was. It was a great, fun tradition that we made the whole thing a little more exciting. Even though we won't be celebrating Easter with our kids the way I did growing up, I'd like them to at least get this part of my childhood.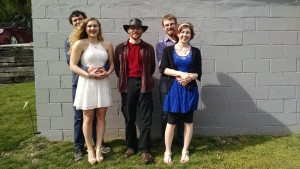 Easter clothes were another big thing. Every year we got a new Easter outfit and we'd take a picture of the three of us, all dressed up before church. It was often super cold outside, but you know. There are some pretty special pictures of the three of us, because it's impossible to get three kids to look good in one picture at the same time. It was always fun, though, to go out and look for a new Easter outfit every year. My sister and I wore a lot of matching or complementary outfits growing up. I remember a very shiny set of blue and pink, skirt and shirt outfits that we wore one year. I was blue, she was pink. when we got older we chose different things, until that time we found a dress we both liked and were like, hey, why not? But that was also the year my period started on Easter and I was feeling too miserable to go anywhere, so I just stayed home. It was a white dress, so yeah.
We celebrate very differently nowadays. As I said, we don't celebrate Easter in the traditional sense in the RP church. I think when we have kids to celebrate with, we may pull out some of my family's old traditions, but for now, the only thing we do for Easter is gather at my Uncle Paul's every year to have dinner with my dad's side of the family. I did find an Easter dress this year, but only because I really wanted this dress and needed a good excuse to justify buying it. I'm honestly okay with this, though. It's a nice excuse to get together with my dad's family, which we don't always get for Christmas, splitting it between all four sides of our family. They're the only ones who do something for Easter out of the four, so it's a really easy set up for us. We go to church in the morning, drive up to Beaver Falls right after and spend the afternoon with my dad's family before heading over to my parent's place to snuggle kittens. It's a good time.
When we have kids things will be different, of course. I have a feeling my parents won't mind breaking out the egg coloring kit again, and maybe we'll do an egg hunt or two, we'll see. I would like to do Easter baskets, because, really, who doesn't like chocolate and toys? We'll probably skip the cross shaped ones, though, and go for the cat shaped ones I've discovered. Because cats. But that is all a hypothetical future. For now, I'm pretty happy with what we have going on this year. I'm satisfied with going to the last fish fry at the fire hall and chilling all weekend with my husband. I'm good with baking something for Sunday and then running up to hang out with my family for the day. It's a good time. My sister will even be back from Ohio, so that makes the whole thing extra special. We have to lure her back how ever we can. I'm looking forward to our chill Easter traditions. I hope you enjoy whatever it is that you do, as well. Have a lovely holiday, my friends.