Christmas Time: Pittsburgh
Every year my in-laws make a Christmas trip into Pittsburgh. I don't know how long they've been doing this, but it's been at least as long as I've known them. There's a little Christmas village in Market Square that they go to look through and a list of other Christmasy things to see and do each year. I started coming along the year we got engaged and it's now one of my favorite holiday traditions.
The Christmas village is full of artists, craftsmen, and little shops who run booths to sell their wares. From toy stalls, to blown glass ornaments they have a wide variety of really cool things. The first year we were dating, Logan got me a necklace made out of a spoon there. It's a really lovely pendant with a bird in the middle of a purple background set in the bowl of the spoon. The following year I got a green owl spoon, but after that the artist stopped coming to the village. It was quite side. I could have had such a collection. We don't always buy things there, but it's a great place to look around and see what there is. There's a little courtyard in the middle that usually sports some live music. I love going and looking at all the cool crafts. There are a lot of people who do some really cool things there.
Once we have vanquished the Christmas village it's usually time for lunch. We always go to The Original Oyster House for some tasty, tasty, fried sea food. I have discovered that I enjoy clams to much to not get all clams. They seriously have the best fried clam strips I have ever had. So I get those every year with a side of fries and clam chowder, because clam chowder. My husband sometimes thinks about getting something different but always goes with the fried oysters. I want to think I've tried them at least once, but I can't say for sure. All I know is he describes them in a texture way that is not appealing, but to each his own, I guess. The restaurant is small, and usually crowded, but totally worth it for the food.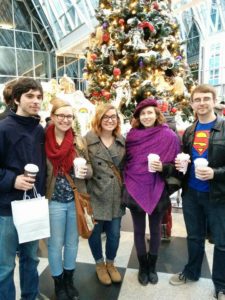 From there we could go anywhere. There are three stops now outside of Market Square. There used to be four but we'll get to that. PPG place has a giant tree up in the middle of their ice skating rink, which is gorgeous. They also have a display of Santas from around the world spread around tiny hills full of gingerbread houses made by class at the local schools I want to think. There are a ton of them. There's a tree in there too, though not nearly as impressive. This year it had lots of creepy Santa faces peering out of it. We get a picture with the inside tree and with the outside tree, just to be thorough.
There is also a little indoor shopping area near by that we always go to, mostly to get out of the cold for a little while, I think. It's not super impressive, but they have a candy shop, a rock store, and a Hallmark store that we stop by in turn. And a bathroom that doesn't require a key to get into. The rock store is always interesting. They have some cool jewelry and decoration type things, and also just a lot of loose rocks. I mean they're all processed and polished and whatnot, but there are just buckets of rocks hanging out here and there for people to sift through or grab a hand full or whatever. The Hallmark store is the only one that we go to on the second level. It's fun to look at all the ornaments and press all the buttons that I immediately regret pressing because they're not short little sound clips, they play entire scenes and they're loud.
Once we've done both close by locations, and probably gotten some coffee, we head into the city in search of the toy store. S.W. Randall Toys and Gifts is a three story house turned shop. They have lots of modern and vintage toys for purchase and it's actually really neat. The first floor is novelty items, toys for younger kids, and such. There is a room full of books and puppets. Every year we play with the puppets. This year there was an ostrich puppet, and a cow with a tongue. They always have interesting choices. The second floor is games, magic, science and model building. They have a whole wall of puzzles and another of board games. As a family who is rather into board games, we can spend quite a bit of time on this floor as well. The third floor is dolls and collectible teddy bears. My husband hates that floor, but I rather enjoy it. I am the only one who doesn't think dolls are terrifying, though, so I often go up alone. This year I didn't go up at all.
Here is the sad part of our trip to Pittsburgh. The giant Macy's closed last year. Every year we used to go to the big department store, the last in the city, and look around the many floors of merchandise. It was so cool to take the elevator between the men's department and the women's department and the floor with all the books, it was so cool, like stepping back into the 50s. They were always super decked out for the holiday too, it was so festive. Unfortunately, the store closed and now is just office buildings. To substituted for this, we've started going up to the Ross Park mall instead. The mall is a good one, very well decorated and full of a lot of unique stores that we don't see other places. We've enjoyed a dinner of Five Guys these past two years, and then more walking and shopping. This year I got to try out a virtual reality console by Windows and it was the coolest thing ever! It was pretty mild as far as disorientation went, but there was a point when I was on a high thing and the guy was like "look over the edge!" and I did and it felt exactly like I was looking down from way high up, it was nuts!
And that's our Pittsburgh Christmas tradition. We successfully got a couple more gifts, I got some new pants and Logan got new shoes out of it this year, so I'd say it was a pretty successful trip. This is one of the traditions I always look forward to the most, right up there with making Christmas cookies with dad and going to see the Christmas play with Mom and the girls. I'm almost a little sad it's over so early this year, but it was lovely as always. I hope you are also enjoying fun holiday traditions, my friends.