Days of Thankfulness: Friends and Siblings
IT'S HERE! It is officially Thanksgiving week! We have just two more days of thankfulness before THE BIG DAY! So we're dipping into the bigger thankfulness topics which I know I've already covered, but I'm going to talk about them a little differently. Today I'm thankful for friends and siblings and the ability I have to keep in contact with them. I am thankful that my siblings are willing to make an effort to come see me and spend time with me. I'm thankful that we have the technology to keep in touch with friends across the state, or across the country. I'm thankful that I got to see lots of people this weekend and I have a date with me sister today. I'm thankful for coffee dates with people that I love.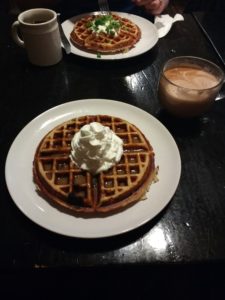 On Saturday Logan and I drove up to Beaver Falls to have breakfast at BFCaT with Twirls and Ryan while they were in town to see his family. I am so thankful that we got to see them while they were here! Long distance friendships are tough but Twirls and I have been managing nicely thanks to modern technology. We FaceTime every couple of weeks and text often, and I'm thankful that we have those ways of keeping in touch on a daily basis. However, it's so nice to see her in person and hug her and have a real time conversation with her that doesn't involve me awkwardly holding my iPad and hoping the connection doesn't drop in the middle of a sentence. So we got waffles and hung out for a few hours and it was so very lovely. We also got to see some dear college friends who are still at Geneva, which made it all the lovelier.
Today I have a date with my sister. We're going to see Doctor Strange and get some coffee, because really what else do you do on a date? We try to do these sister dates once a month, usually at the beginning of the month when I have a brand new budget to spend. We like to shop. And we'll be in the mall anyway for the movie, so you know, might as well look around. I'm thankful that I can hang out with my siblings still, despite living an hour away. It's hard with them both working and me being out of the way, but we've worked out a pretty good system. My brother joined our latest table top game and has become part of the greater D&D group so I get to see him at least once a week. I'm thankful for our shared love of role playing games, which he introduced me to, and the opportunities it gives us to hang out.
I'm so thankful that we live in a time where moving away doesn't mean losing contact with friends and family. I'm thankful for the many ways that I can keep in touch with my friends and the many opportunities I have to see my siblings regularly. I'm thankful that Lauren doesn't live in Indiana state for half of the year anymore and that we can see her with the rest of the family every week. I'm thankful that Molly doesn't want to go far away for college, and that she wants to go to Geneva, the greats of all colleges. I'm so thankful to have these two lovely ladies in my life.
Mostly, today I'm thankful for coffee dates. I'm thankful that I can text a friend and be like "hey, can we do coffee soon?" And they'll respond with "Sure, this day's good for me!" I'm thankful that I have friends I can hang out with, who will happily sit and chat with me for a while. I'm thankful for places to get good coffee near by. I'm thankful for Biddle's Escape and Beaver Falls Coffee and Tea Company, where I can meet up with all sorts of my favorite people. I'm thankful that there are people in my life who want to be in my life. I'm so thankful for our D&D group and for our Bible Study friend. It's so nice to get to see people on a regular basis. I'm super excited for our next Savage World's campaign as it'll bring all the girls into one group. I've missed having our trio together every week.
These coming weeks will be super hectic, but I am hoping to get in some long overdue coffee dates in. I'm going to do lots of Christmas shopping with my family on both sides, probably. There will be parties and family dates and events going on and I'm so excited for all of it. I can't wait to see everyone this holiday season and I'm so thankful for all of them. Today I'm thankful for my friends and siblings. What are you thankful for?
‹ Days of Thankfulness: Lazy Days Free Writing 5: Not So Hot ›