Bring Out Your Pants!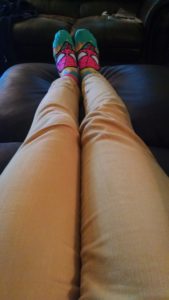 Guys, you won't believe it! It's been in the 70s for the past two days and I am wearing pants! I have been so excited about this all morning! You would not believe how long I've been waiting to put on these gold pants again. These are the best pants, ever. I am so proud of these pants. I found them at a thrift store with the tags still on them and everything. They were originally like $76 and I bought them for $11 and best of all, they fit me. Anyone who has ever worn pants understands that this is not a thing you find every day! But they're perfect, fitting my hips and my legs perfectly, both in length and circumference. They're not super baggy or super long like most pants, nor are they super tight and super long. I never find pants that are too short for me for some reason.
So today I'm wearing my very favorite pants to celebrate the cool-ish weather and the fact that I won't die wearing them outside today. I figured I should take the opportunity while it's hear. It's supposed to warm up again on Monday. But for this weekend it's supposed to be in the cool 70s and lacking in humidity, last I checked so I'm going to enjoy this little taste of pre-fall while I can. Have I mentioned how much I love fall? Here, let me tell you again.
My wardrobe is basically made for one season, and that's fall. I have acquired a few more spring/summery things this year, more shorts and a tank top or two, but  mostly I'm built for cold weather. I have been waiting to pull out my long pants and boots and scarves and hats for the last month or so. I miss my purple beret and my owl scarf and my black boots and my green boots, and most of my boots for that matter. I have to dig out my brown boots for this Monday because we're going to the Ren Fair and they're important to my outfit. I'd like to locate some safety pins while I'm out today so that I can make some adjustments to my costume, but we'll see if that happens.
My sister and I are going shopping today. This could be dangerous as we just started a new budget so I have all the money to spend, and my sister is quite the bad influence. Hopefully having a list of things I want to get will keep me from buying a bunch of things I didn't intend on, but really want. As long as we don't go into Payless, I'll be fine. I never think of myself as a shoe person until I walk into that store. Weird. Anyway, we'll probably run around the mall and maybe some other places in Monroeville and have a lovely time trying things on and picking things up and talking about boys. Granted, it'll be the same two boys we always talk about, but still.
And you thought this post was going to be about pants. Sorry, you got a ramble instead, my sister should be here soon and I wanted to get this all squared away before she arrives. We're starting the day with coffee and I might just want to take her to a little coffee shop a few towns over before we start our shopping. Anyway, I hope you all enjoy this wonderful weather and perhaps even your own pants, if you're into that like I am. Have a lovely day, my friends!