Adventures in Cupcakes
This past week has been filled with cupcakes, mostly. For my cousin Brittney's wedding I volunteered to make cupcakes so they didn't have to worry about getting enough cake for everyone. I enlisted the help of my very good friend Michelle, as she is wonderful and can basically do anything involving a kitchen.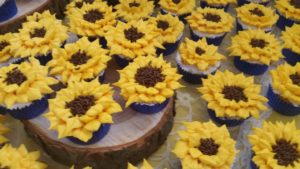 Brittney's them for the wedding was sunflowers, so when I asked Michelle to help and told her all the details I knew she immediately went to Pintrest and found like six different sunflower cupcake designs. Like I said, she's wonderful. I showed then to Brittney and she picked one she liked best. Step on in the cupcake process complete. The next step was to get all the stuff. We started with the tips we needed to practice making the sunflowers. That was also an adventure. We made chocolate and brownie cupcakes to practice on, because if you're going to have to eat them you should make them tasty. We also made peanut butter frosting, which was not a great idea for practicing flower making since it was super sticky, but hey, it was also tasty. We pulled out some store-bought frosting and tried again and that worked out much better. With the confidence that we could indeed make these work, we set about ordering and gathering the moving parts.
Two dozen eggs came from my dad's chickens. A four pound bag of chocolate sprinkles was ordered online. I didn't realize when I set out how many things I would have to buy: the cake tips, the boxes to carry the cupcakes in, the paper liners, all the things for the icing. I went into Aldi thinking a box would be fine… I came out regretting that decision. Sixteen pounds of powdered sugar and eight pounds of shortening/butter plus the eight of the other ingredients is a lot to carry. I had to switch boxes since the bottom fell out of the first one. I can't say that I'll be volunteering to make cupcakes for people again any time soon, but next time I'm crazy enough to do it, I'll be better prepared.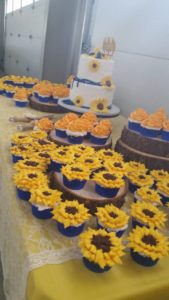 So Thursday we spent the day making all the cupcakes and all the icing and putting a base coat on the cupcakes. We got through maybe half of the cupcake making process and had just started putting icing on them when I had to rush off to pick up my husband from work. Lucky for me, Michelle and her husband were willing to finish the job that evening so I didn't have to worry about them. They really are amazing friends. We met up on Saturday at the reception hall to decorate them. The sunflowers would definitely not have traveled well. The next two hours were spent making sunflower after sunflower on 100 cupcakes and then swirls on the rest. Logan and Michelle's husband, Micheal, manned the sprinkles and transported the cupcakes out to the cake table for display. It was quite messy, but also a good deal of fun. I really enjoyed the whole process.
The cupcakes turned out really well, I think. They didn't even come close to getting all eaten, but that is the way of wedding cupcakes, really. And they made the bride happy, which is the only really important thing. I was more pleased than anything that I could make her special day just that much brighter. So as if I haven't said it a thousand times already, thanks again Michelle for being awesome and helping me make some super special cupcakes for a super special girl!