Christmas Memories: New Traditions
First I'd like to apologize for the late post. I didn't have time this morning to write before we went out for the day. I'm writing to you now, having just returned from a day of wandering around Pittsburgh in a drizzling sort of rain with my in-laws. One of the cool things about being married is taking part in the traditions established by my husband's family. There are a bunch through out the year, but the big one is the Pittsburgh trip.
This is my third year joining in the Pittsburgh trip. It's quite the event. We gather in Market Square where the Christmas village is set up and wander around the little booths to look at all the wares. Once upon a time there was a seller of spoon jewelry there where my husband bought my first Christmas gift when we were dating; a spoon necklace. He bought me a second spoon for my necklace the year we were engaged, but then the vendor disappeared, never to be seen again, and that tradition ended there.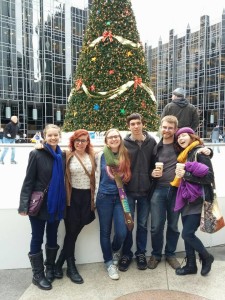 Coffee is always involved and once we've gone around the village a few times we generally take a look at the Wintergarden in PPG Place, sometimes to get out of the cold, sometimes to get out of the wet. This year it was the wet. We do lunch in the Original Oyster House, conveniently in Market Square. This is the part I always forget about and then remember when we get there. It's a happy surprise every time. I get lots of clams to consume and they have very nice fries too. It is quite the happy place for a meal of fried sea foods.
Once we've finished with Market Square we wonder out into downtown in search of more shopping experiences. There's a little mall type place we go that has a rock store and a Hallmark to look in. We go to a cute old style toy store and look around three floors of classic toys mixed with new games and gadgets. It's a pretty cool place. The third floor is full of dolls, which my husband can't handle. I think I'm the only one who doesn't find them super creepy. We used to stop by the giant Macy's downtown, but it closed this year. It was rather sad walking past the building and not going in to wander over the different floors and departments therein. Instead, this year we made our way up to Ross Park mall. I guess we'll see if the trek out there becomes a regular part of the established tradition. I love the Scavo Pittsburgh trip. It's always fun to see our city all decked out for the holidays and spend the day with the family.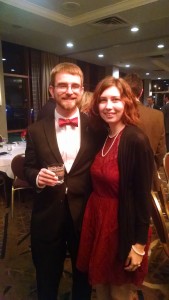 I'm looking forward to making new traditions for ourselves as well. This past Saturday Logan and I went to his company's Christmas party. We dressed up all fancy and went to a fancy hotel to eat fancy food and socialize with his co-workers. This was the first year that I could make it to the party and I actually rather enjoyed it. There was a little bit of dancing, we got to swing to a couple of songs, and the food was really good. He works with a lot of cool people and everyone was very nice. It was kind of funny how many people assumed that they'd met me before and gave me a hug without thinking about it. It was also nice to hang out with his work friends and their significant others, who we really should hang out with more often as they're all cool people. While being fancy is always a little stressful to think about, once we're there, the party is a lot of fun. I'm looking forward to this being part of our Christmas traditions.
The rest we're still trying to figure out. We'll be doing our gifts on Christmas Eve morning before we start all the family celebrations. Someday I'd like to have our own cookie traditions and maybe some other fun holiday activities that Logan and I do as a family unit. Tomorrow I'll be enjoying Christmas movies with my mom, mom-in-law and sisters-in-law. This is a thing that may or may not become a tradition. We did it last year too, I think. It would be cool if it continued. I think it's great that my families can mix so easily. We'll have to see what sort of new things future Christmases bring, but for now, I'm enjoying some new traditions along with my old favorites. I hope you are too.
‹ Christmas Memories: Candlelight Service Christmas Memories: Christmas! ›