Christmas Memories: Cookies
Probably the biggest tradition we have in my family is the list of Christmas cookies that my dad makes every year. The list is pretty impressive, including at least six different kinds of cookies made in triple batches to be shared on cookie trays all through the holiday season, and then to be stored in the freezer to be eaten slowly all year round when we think of them. For as long as I can remember we've been making Christmas cookies and I am quite determined to continue making them long into the future.
It starts with snowball cookies. I've heard them called many different names, but we always knew them by the name snowballs. They're cookie balls full of nuts and chocolate chips and covered in powdered sugar and they are my second favorite Christmas cookie. They always seem to be the first on the list. I might have imagined that, but in my head, the kick-off cookie is always snowballs. They're followed by peanut butter blossoms with both Hershey kisses, light and dark chocolate, and Reese's mini peanut butter cups. These are my second least favorite cookie. The fact that they come apart and you can kind of eat them as a whole cookie, but it's kind of a challenge puts them pretty low on my list. This is not to say that they are not tasty or wonderful in their own way, they're just not as good as other Christmas cookies.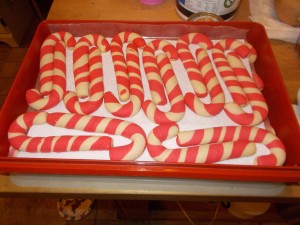 The big ones, of course, are the candy cane cookies. These are my absolute favorite cookies of all time and they are only made around Christmas time. They are also the hardest to make. We learned to make them as children, slowly honing our candy cane making skills as we grew. It's a super important tradition that takes a while to master, at least for little people with little hands. I'm super proud of my candy cane cookie making skills. So you're probably wondering, those of you who don't know, what's so tough about these cookies. Well, I'll tell you.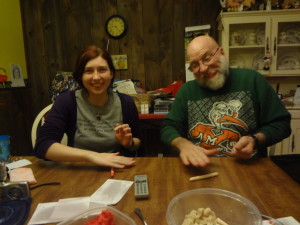 Candy cane cookies are shortbread cookies that are twisted and shaped to look like a candy cane. It starts with two lumps of dough, one left plane and one dyed red. These two colors need to be twisted into candy cane stripes, right? Sound pretty simple, just roll them each out and wrap them around each other. That is the way of the amateur. My dad's candy cane cookies are smooth and clean without seam between the colors. They are beautiful cookies and require a skilled hand to swirl the colors smoothly and shape the curve without cracks. The big challenge is the dough itself, really. The shortbread dough tends to be crumbly and hard when cold. You have to work the dough in your hands until it's soft and malleable. Once you've gotten the dough into forming condition you can then proceed to the rolling and the swirling, but if you haven't worked the dough enough it's likely to all fall apart. If you press the dough too hard while rolling it's likely to fall apart. If you look at the dough wrong it's likely to fall apart. These are very fickle cookies to make. These past few years we've had really good batches of dough, actually. They've been really soft and easy to work with. My poor husband, however, started his candy cane making experience with the worst dough batches we'd had in years and had to struggle to learn on crumbly dough that even Dad and I had some trouble with. When Dad's cookies are falling apart, you know it's the dough.
The last cookie, it seems, is always the sugar cookies. These are the fun shape cookies that we paint with icing every year with my little cousins. Last year Zachy was a little too young to understand the icing went on the cookie and not on his face and hands. This year I think he might get it a little better. These cookies are fun to make, but not my favorite to eat. They're just kind of sad compared with the glory of the candy cane or the overwhelming chocolate of the Oreo truffle. But the kids always enjoy painting the icing on and I always enjoy hanging out with them and watching them have fun. It's a good time that will hopefully happen next week when they finally get to their Christmas break.
Christmas cookies are a tradition that I love and hope to continue with my own kids someday. I'm kind of hoping that we can pick up some of our own cookie traditions, when we have places to take loads of Christmas cookies and lots of people to eat them. It'd be cool to have Dad's list and then our list of cookies to make every year. Perhaps next year we'll start trying some out. Hopefully by then we'll have a bigger kitchen to work with. I can't wait to continue our cookie making tradition this year and every year. I hope you are all enjoying your holiday baking as well.
‹ Christmas Memories: Specials Christmas Memories: Candlelight Service ›