Adventures in One Act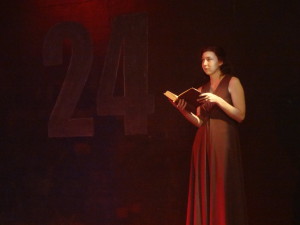 Have you ever noticed how some weeks you don't have anything and then other weeks you have, like, everything? It's crazy! I can spend whole weeks with very little to do outside my apartment and then suddenly BAM! Every day there's something scheduled and I think, when did I get so popular? Last week was one of those weeks. With the exception of Friday and maybe Tuesday we had somewhere to go and something to do every day of the week.
Mostly it had to do with the fact that I'm apparently a play-write now. Go figure. I never saw myself as a play writer but I guess that's a thing I do now. It started my senior year of high school, actually and then went dormant until my senior year of college. My high school teacher told me a few times he thought I would do well with stage writing, but I was so set on fiction that I didn't take much notice of it. That is, until 24-hour theater.
I thought I would just act. I'd been involved with the theater for a year and a half at that point and I like acting. Then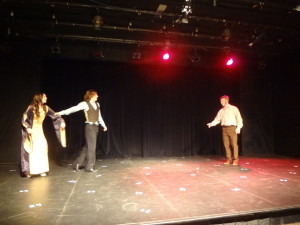 they said there would be people writing the plays as part of the 24-hour experience and, well, writing is kind of my thing and they needed writers. So I found myself paired with an awesome director for the next 24-hours and no idea whatsoever on what I was going to write or where it was going to go or how it was going to turn out. It came out sort of like this.
It was a mash-up of two different Irish myths and a bit of my own invention, though not much. It was a lot of fun and my director and I worked so well together, we decided to do it again. I had been toying with the idea of doing a series of One Act plays for an independent study the following semester. The 24-hour experience sold it for me.
My first one act was staged the following spring at the Geneva One Acts show at the end of the semester. It's still one of my favorite pieces of work. It is really cool to see your words performed on stage by a group of really talented actors. After that year in theater, most people were all about the comedy. As far as I know, I'm not very good with comedy. So I wrote a tragedy in the hopes that my director could make it funny. I'm not sure that it was actually funny in the end, but I thought it was beautiful. If my director ever puts it up on Youtube perhaps I'll share it with you all.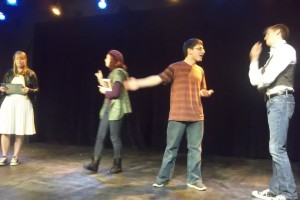 I wasn't going to do 24-hour theater again, I really wasn't. Staying up for 24 hours straight is rough, I don't know how college kids do it all the time. My husband was notorious for such stints of awakeness, but that's a story for another time. I wasn't going to do that to myself again, writing and acting in the same show was just too much for such a short time. And then I got a message saying "hey, we know you're old and married and stuff, but could you write for us again this year?" And how could I say no? So I promised myself I would only write. I wouldn't act, I'd just write the play and then go to sleep. But of course we didn't have enough girls for our play and of course I had to volunteer myself to step in.
This year, my director is graduating and for her last play at Geneva she wanted me to write for her one last time. So the week before last I started writing, because really, I'm still a college student at heart and if I can put something off until the last minute, I will. This year, I've attempted a comedy. We'll see how that works out. We have a really great cast made up of several of my favorite people and I'm very much looking forward to seeing out it turns out.
I have to say, as much as I enjoy writing fiction, play writing is so much more rewarding when you can get your work on stage. I know that's much harder than it sounds right now. I have it easy with a willing director and a place to showcase it, but it does make me think, perhaps I could write more plays. Perhaps other people might like my stage work and want to perform it other places. Who knows?